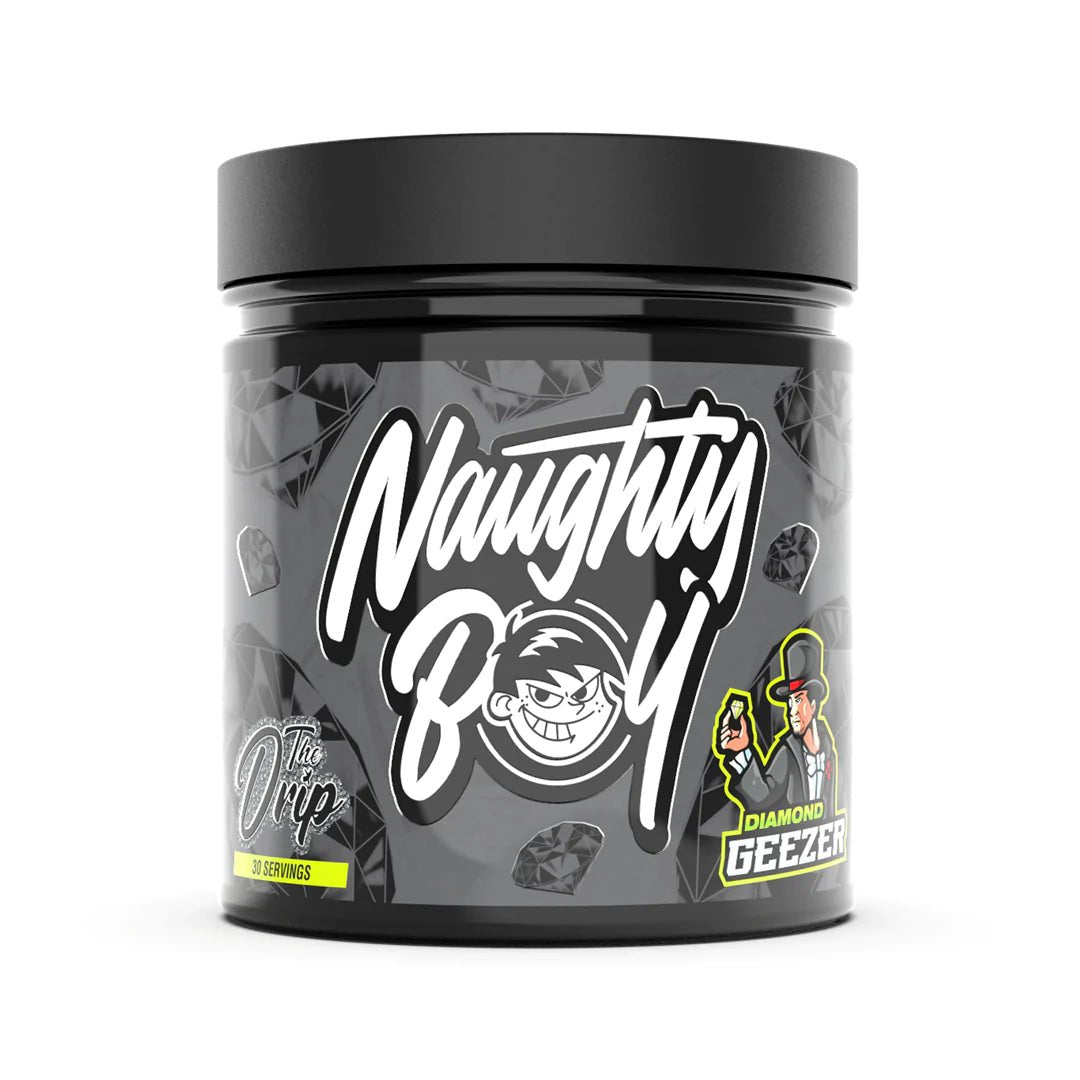 Naughty Boy The Drip | Fat Burner
Regular price
£35.99
/
Tax included.
---
---
---
---
MELT FAT. BOOST MOOD. INCREASE ENERGY
Naughty Boy The Drip (40 Servings) is a comprehensive fat burner loaded with a fully transparent panel of ingredients, including six patented ingredients. The Drip was formulated to give you long lasting energy, supreme focus and the feeling of euphoria. Known for its delicious flavour options and effective results, it is a must-have for anyone looking to take their weight loss and fitness journey to the next level. 
The Drip contains ingredients which will help your body counteract physical and mental stress therefore supporting cortisol levels. Lastly a clinically dosed thermogenic fat loss formula that will light you the up and leave you surpassing all your goals. It will make you feel pretty good too by boosting your energy, your mood and your ability to focus, helping you to smash through every one your workouts. And if the formula and the effects aren't impressive enough, the flavours are going to blow your mind.
We are confident The Drip has taken the fat burning category to a whole new level.
Naughty Boy The Drip Ingredients Breakdown
 L-Carnitine - is the standard biologically active form of Carnitine that is found in the human body. The tartrate version of L-Carnitine has been proposed as a more effective way than the common L-Carnitine for recovery and fat loss. Taratarate is a salt used as an additive in Carnitine supplement to facilitate the better absorption of Carnitine. In its active form, L-Carnitine is used to boost energy and endurance in athletes, bodybuilders and employed by those who want to reduce weight.
Acetyl L-Carnitine - helps your body produce energy. In particular, it helps your body shuttle fatty acids from stored body fat into the mitochondria of muscle cells where it can be used for energy. This results in an increase in the use of stored body fat for energy (also known as increased fat metabolism).
ProGBB™  - is a patented compound which is a breakthrough discovery made by scientists to increase L-carnitine supply in pre-workout supplements. When you consume GBB-EEC enriched supplements it is said to increase your workout capacity, decrease your fat accumulations and make your cardiovascular health better.
Capsimax - is a concentrated extract of the naturally occurring compounds in red chili peppers. Formally called capsaicinoids, these are responsible for the sensation of heat when you eat something spicy that is seasoned with chili pepper. Capsimax captures these compounds for their unique ability to generate heat in the body, which serves many functions related to metabolism and is helpful for people looking to manage their weight.
Grains of Paradise - has been found to help convert WAT (White Adipose Tissue) into BAT (Brown Adipose Tissue), therefore converting the energy storing fat tissue into the fat tissue that helps increase thermogenesis and total calorie expenditure. Studies, in humans, have shown subjects who consumed Grains of Paradise® had greater BAT activity than those who had a placebo. Another study found that subjects who consumed Grains of Paradise® had greater decreases in body fat around the lower abdominals as well as lower levels of visceral fat in the same area when compared to those who consumed a placebo, with both groups NOT making any dietary or exercise changes.
Caffeine Anhydrous - Caffeine helps to reduce fatigue, improve concentration and increase physical performance. In particular, it reduces sedation and relaxation by inhibiting the production of Adenosine, the chemical associated with sleep . This results in an increase in wakefulness, focus, better body coordination and can increase performance in cardiovascular and anaerobic exercise.
Infinergy - Helps to reduce fatigue, improve concentration, increase physical performance & boost thermogensis. In particular, it reduces sedation and relaxation by inhibiting the production of Adenosine, a chemical associated with sleep. This results in an increase in wakefulness, focus, better body coordination and an increase in performance in cardiovascular and anaerobic exercise.
EnXtra -  Love a nice, clean buzz without the anxiety? EnXtra is a clinically studied and standardised ingredient that can either replace caffeine or work with caffeine synergistically for 5 hours of healthy energy support (i.e., you don't have to choose one or the other).
Alphazone Alpha-GPC - quickly crosses the blood-brain barrier where it protects neurons and improves brain function and learning processes. Specifically by mechanism of action Alpha GPC directly increases the synthesis and secretion of acetylcholine better than any other choline related compound, influencing both system-wide and brain concentrations of choline.
L-tyrosine - reduces the effects of stress and allows for greater mental focus and endurance while also improving memory and performance. L-tyrosine works to optimize the effectiveness of the energy and focus ingredients in The Drip.
Rhodiola Rosea Extract – This herbal extract is considered to be an adaptogen as well as a cognitive enhancer. Specifically, Rhodiola has been shown to relieve mental fatigue and increase motivation.
Kanna Ease - is a high potency specialized Sceletium Tortuosum (Kanna) extract that is designed to support positive mood, relaxation, calmness, improved sense of well-being, and more.
Flavours
Naughty Boy The Drip comes in 6 mouth watering flavours! 
Blue Wicked
Lemon Haze
Summer Yutes
Bondi Peach
Diamond Geezer
Rose Magnum
*Please note: Any flavours that are not available in the drop down menu are currently out of stock. You can sign up to our mailing list to find out about all restocks before anyone else!
Extra Information
Serving Size - 1 Scoop (5g) / 2 Scoop (10g)
Servings Per Container - 40 / 20
Cost Per Serving - £0.89 / £1.79
All orders made Mon - Fri before 4pm will be shipped the same day with next working day delivery.