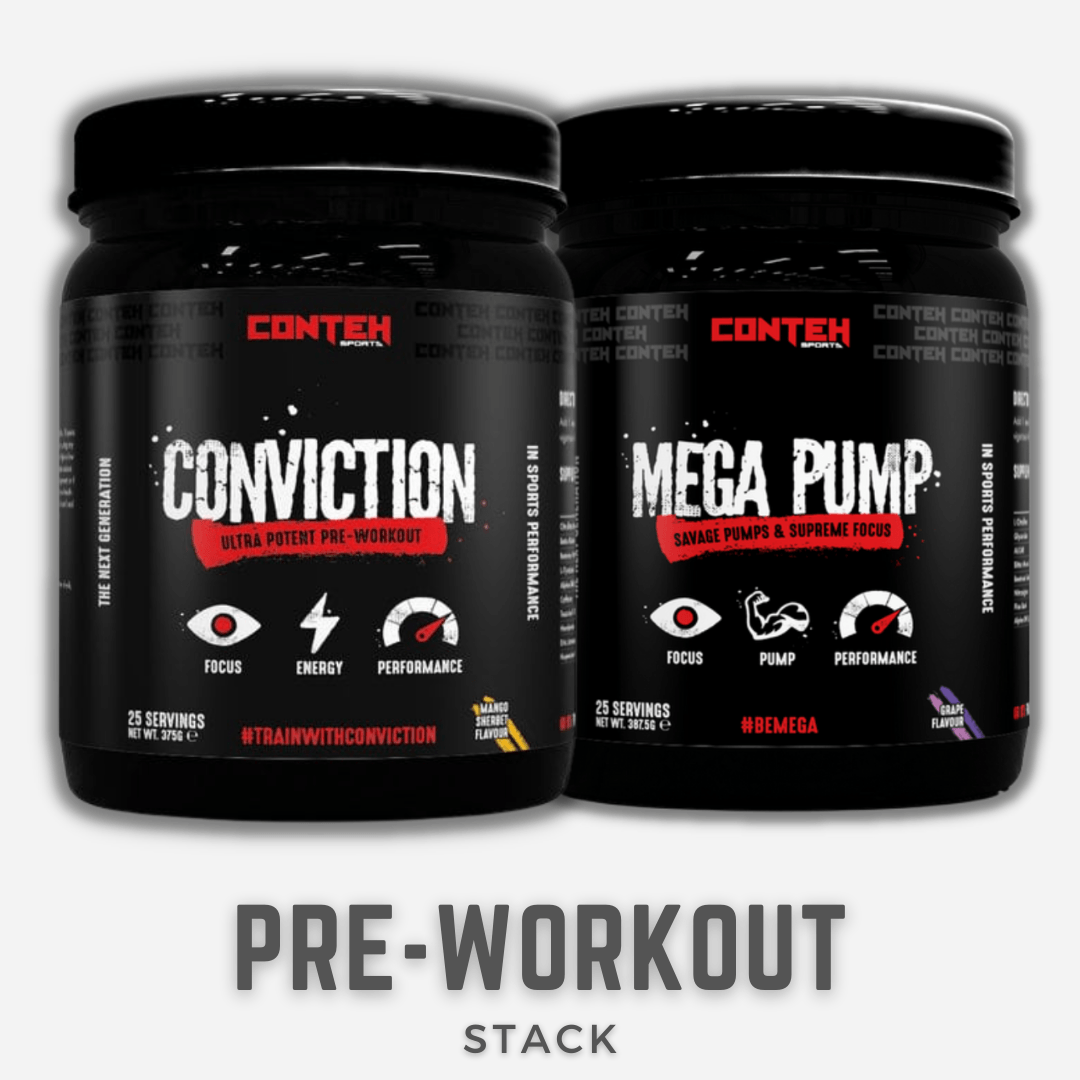 Conteh Sports Performance Stack | Conviction | Mega Pump | Pre-Workout Stack
Regular price
£68.98
/
Tax included.
---
---
---
---
BE MEGA & TRAIN WITH CONVICTION
The Conteh Sports Performance Stack is a combination of their High Stim Pre-Workout Conviction and their Non Stim Pump Formula Mega Pump.
Conteh Sports Conviction is their high stim and focused based pre-workout. Conviction is ideal for anyone who has long hard training sessions. They use multiple simulants at a high dose to give you that kick you need for your session, as well as patented TeaCrine® which has been shown to improve endurance, energy, focus and mood. They also use AlphaZone®  which is a patented version of Alpha-GPC, which improves cognitive function and focus. #TrainWithConviction
Conteh Sports Mega Pump is their non stimulant based pre-workout, which was designed to deliver supreme focus and savage pumps. They have used Nitrosigine® which is a patented form of Arginine. The use of Nitrosigine® has been shown to promote nitric oxide (NO) production for improved blood flow, focus, and energy. AlphaZone® is also a key feature in Mega Pump, this will improve cognitive function and give you laser like focus. #BEMEGA
Ingredients Labels
Conviction
Mega Pump
Flavours
Conteh Sports Conviction comes in 6 exquisite flavours! 
Candy Apple
Mango Sherbet
Pineapple Sherbet
Blue Ice Pop
Pick 'N' Mix
Strawberry Laces
Conteh Sports Mega Pump comes in 3 MEGA flavours!
Grape
Peach 
Sergeant America 
*Please note: Any flavours that are not available in the drop down menu are currently out of stock. You can sign up to our mailing list to find out about all restocks before anyone else!
Extra Information
Conviction
Serving Size - 1 Scoop (15g)
Servings Per Container - 25 
Cost Per Serving - £1.43
Mega Pump

Serving Size - 1 Scoop (15.5g)
Servings Per Container - 25
Cost Per Serving - £1.43
All orders made Mon - Fri before 4pm will be shipped the same day with next working day delivery.