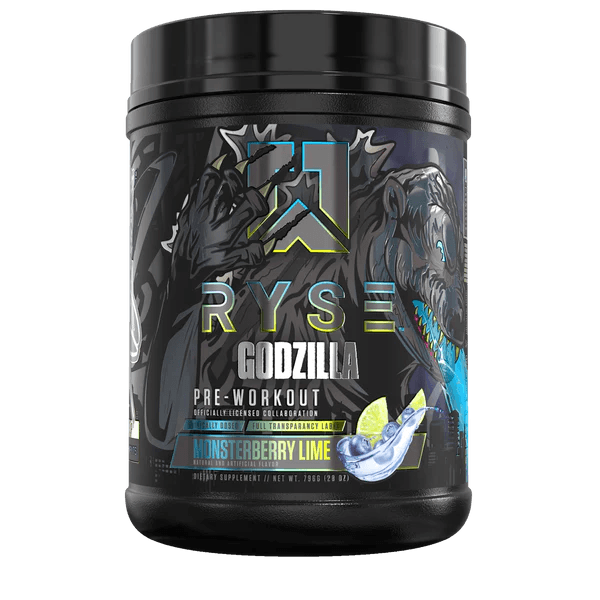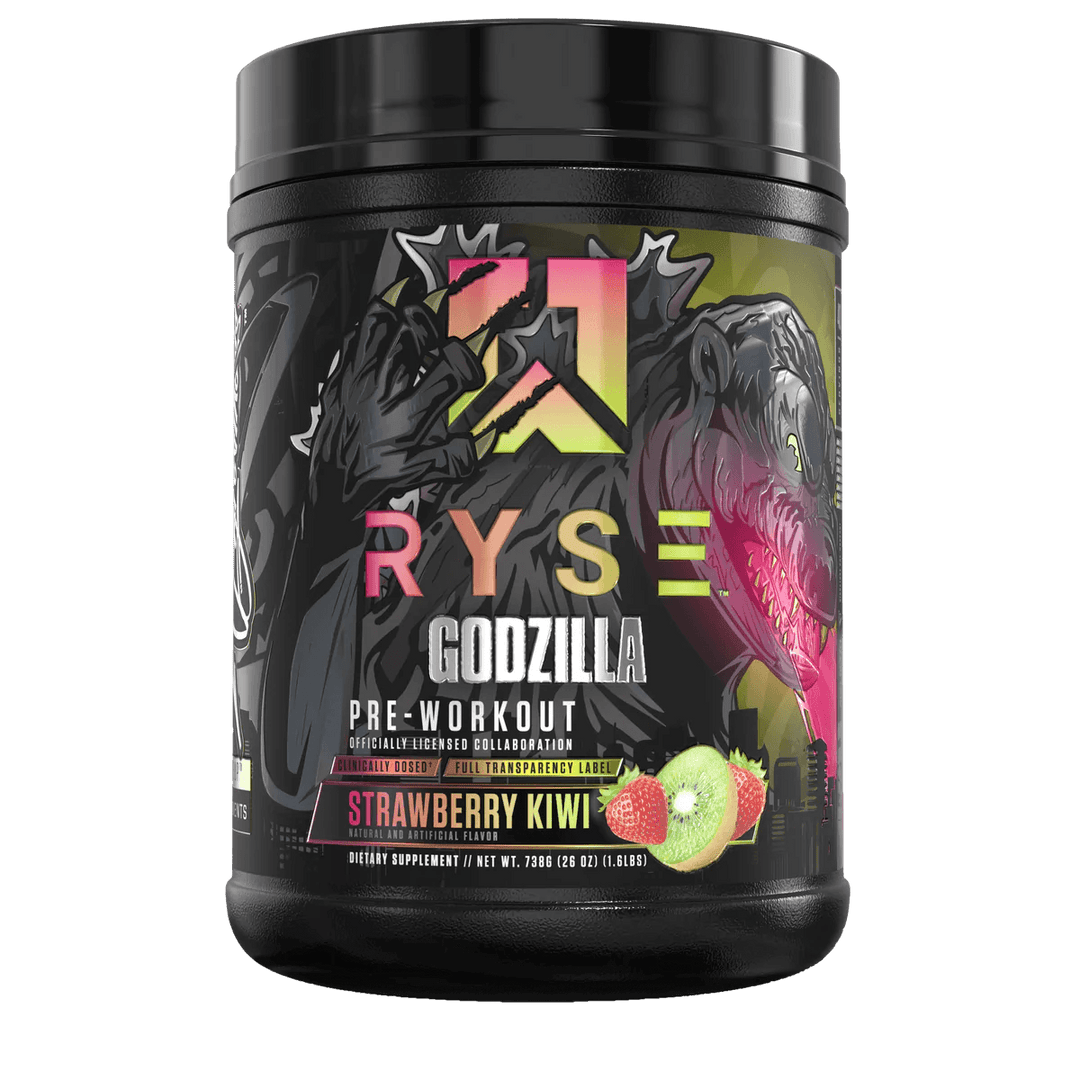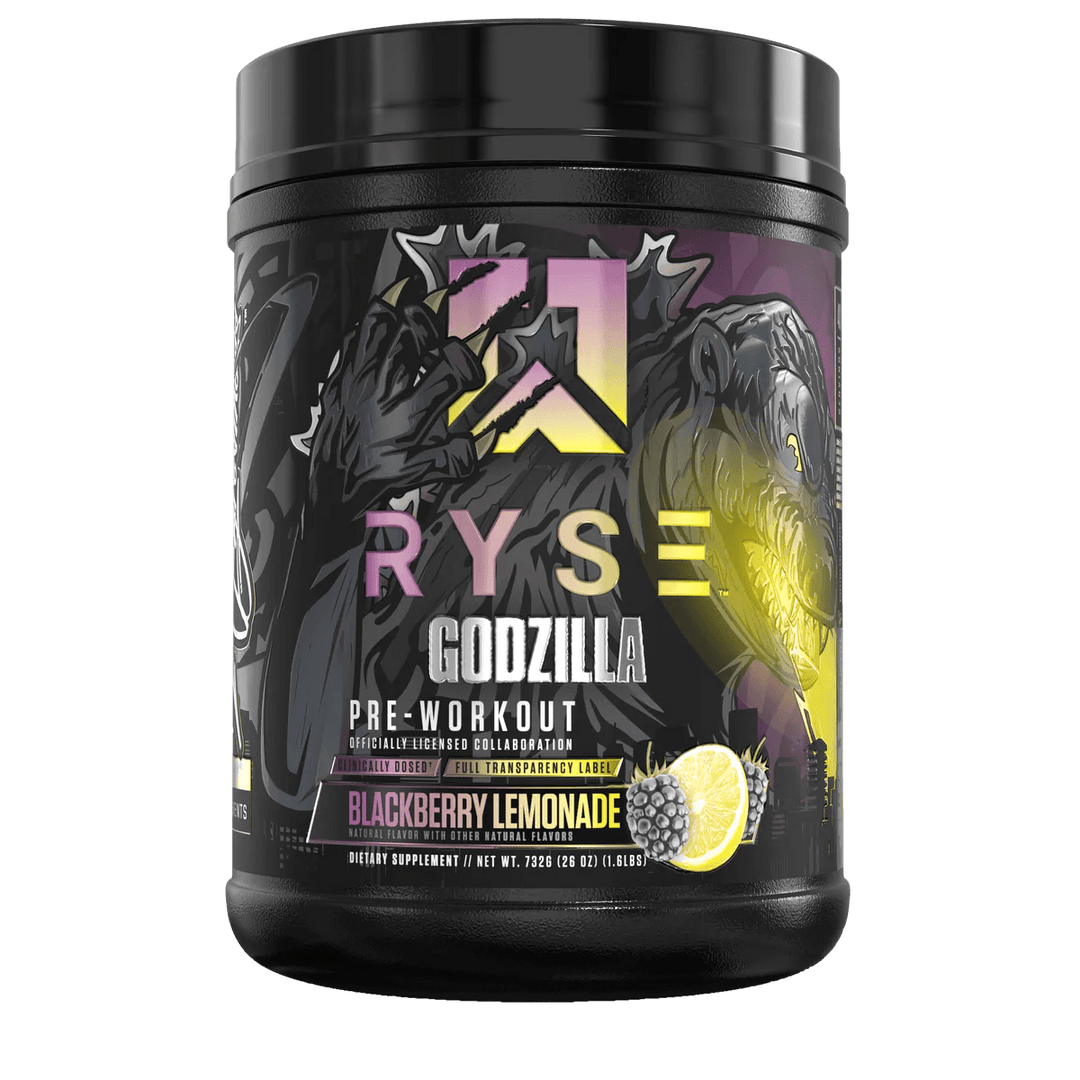 Ryse Godzilla | Pre-Workout
Regular price
£54.99
/
Tax included.
---
---
---
---
PUMP. ENERGY. STRENGTH. FOCUS
THE ONE AND ONLY KING OF PRE-WORKOUTS
There can only be ONE King and the King of Pre-workouts has arrived. The officially licensed Noel Deyzel X Godzilla® Pre-Workout is an absolute monster. Packing a massive 40g serving size, this giant delivers city-crushing pumps, razor sharp focus & long-lasting explosive energy. Loaded with 12 ingredients, 5 clinically studied trademarks and a delicious blast of flavour, your new favourite pre-workout is ready for battle.
RYSE takes a unique approach to the lineup, utilising the latest science and ingredients backed by clinical evidence. Not only do we use the best patented ingredients that are backed by research, we TEST multiple times. You'll always get what the label says and only use the highest quality ingredients, many are patented. By looking at their labels you will see that they cut no corners creating their products and never will, that is their commitment to you!
Ingredients Breakdown
L-Citrulline - Citrulline is the precursor to Arginine in the body, which increases blood flow into the muscles. The increased blood flow brings nutrient rich blood to the muscles to increase the size (pump) but also to help repair.

Citrulline Nitrate (NO3-T) - Nitric oxide (NO) is an important cell signalling molecule generated by virtually every cell in the body. One of its most important functions is vasodilation, or the relaxation and widening of the inner muscles of your blood vessels. This dilation allows for increased blood flow, decreased blood pressure, and better nutrient and oxygen delivery to your muscles during training.
Beta-Alanine - Allows you to train harder, for longer, and stimulate more muscle growth. Beta-Alanine can also help increase performance for high intensity cardiovascular events such as sprinting and cycling.
Betaine Anhydrous - Betaine plays a few roles in the body but is most known in the sports supplements industry for providing similar benefits to Creatine. Without going to scienctific; Betaine works as an osmolyte in the body just like Creatine. Osmolytes are molecules that are moved in and out of cells in order to maintain cell volume and fluid balance. A better-hydrated cell is more resilient to stressors such as training and exercise.
Creatine Monohydrate  - Improve strength, increase lean muscle mass, and help the muscles recover more quickly during exercise. This muscular boost may help athletes achieve bursts of speed and energy, especially during short bouts of high-intensity activities such as weight lifting or sprinting.
Choline Bitartrate - Known as a Choline donor that helps enhance cognitive function through the increase of choline into the body. These increased levels of choline then trigger the body to increase the production of Acetylcholine. Acetylcholine is a neurotransmitter that is used in many processes in the body.
Pink Himalayan Salt  - Pink Himalayan Salt contains more than 80 minerals and elements including potassium, iron and calcium. PHS has been included to help your body achieve optimal fluid balance and prevent dehydration.
Caffeine Anhydrous - Caffeine helps to reduce fatigue, improve concentration and increase physical performance. In particular, it reduces sedation and relaxation by inhibiting the production of Adenosine, the chemical associated with sleep . This results in an increase in wakefulness, focus, better body coordination and can increase performance in cardiovascular and anaerobic exercise.
VasoDrive-AP® - Inhibits a particular enzyme that causes blood vessels to constrict -angiotensin converting enzyme (ACE). Research has shown that it normalises blood pressure and promotes arterial elasticity. You can expect to experience significantly increased blood flow and more vasodilation. Supplementing with VasoDrive-AP® adds up to greater nutrient uptake and oxygen delivery to working muscles to provide greater muscle pumps.
Theobromine - A compound found in cacao plants. Theobromine is a potent bronchodilator (opens up airways in the body). Theobromine supplementation may provide cardiovascular and cognitive benefits via improved blood flow. 
zümXR - Extended Release Caffeine is designed to provide long-term energy without the 'crash' associated with many caffeine products.
Thinkamine® - One of the newest and highly sought after nootropics on the market giving you that laser focus & euphoric feeling to uplift your workouts. This, in addition to efficacious doses of patented Choline Bitartrate (as Vitacholine®) and Theobromine come together and act as the perfect trifecta of laser focus & cognitive enhancement.
Flavours
Ryse Godzilla Pre-Workout comes in 3 delicious and unique flavours. 
Monsterberry Lime
Blackberry Lemonade
Strawberry Kiwi
*Please note: Any flavours that are not available in the drop down menu are currently out of stock. You can sign up to our mailing list to find out about all restocks before anyone else! 
How to use
Mix 1-2 servings (1-2 scoops) with 200-250ml of cold water and consume 15-20 minutes before exercise. Godzilla Pre-Workout contains 400mg of caffeine per serving. Do not consume more than 2 scoops in any 24 hours period.
Extra Information
Serving Size - 1 Scoop (19.9g)
Servings Per Container - 20/40 
Cost Per Serving - £1.37
All orders made Mon - Fri before 4pm will be shipped the same day with next working day delivery.